ATV QUAD SAFARI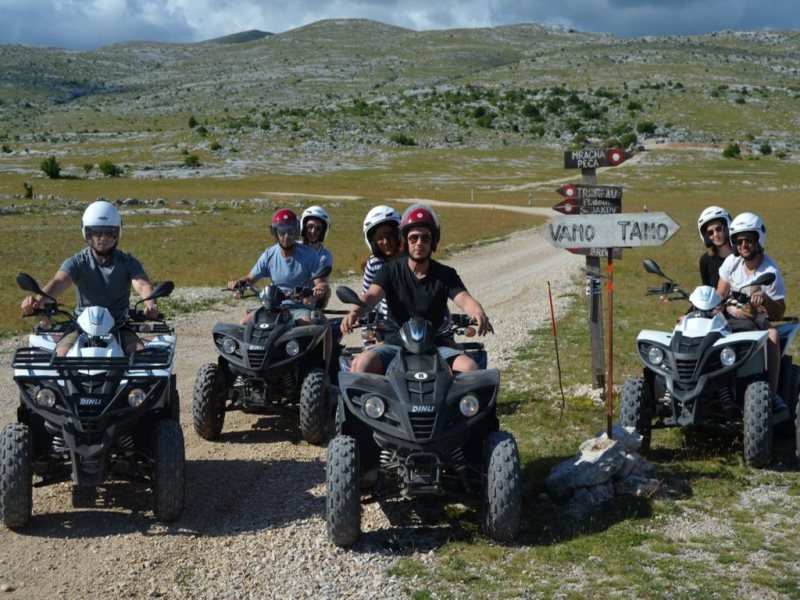 This safari drive will give you the chance to get in touch with your "wild side". Our ATV safari is adapted to all age groups, you do not need any previous knowledge and we will take good care of your.

For true lovers of nature and sports extremes we offer over 40 km of trails adapted for a variety of safari ride, where you take things into their own hands through local roads, gravel roads, rivers, uplands and canyons with stops at some of the many stunning locations in Dalmatian hinterland.
Dalmatian hinterland (Dalmatian Zagora) is also famous for the city Sinj and the Croatian knights who opposed Turkish invasion 1715.god. and in whose honor the past 300 years is held a knight game the Sinjska Alka. Sinjska Alka since 15 November 2010. is registered on the UNESCO list of world heritage in Europe.

At the end of this beautiful story, we are confident that you will long cherish memories of this unique adrenaline adventure.
General condition:

- Driving license (B category)
- Age: min. 16 years

Date and time: by agreement,
morning tour – 9:00 am pick up at 8:00 am
afternoon tour – 4:00 pm pick up at 3:00 pm

Place of departure: Hrvace (football field "Hrvace")

Duration: approx 4 h

Price: 1 person/ 1 vehicle 600,00 kn - 80 €

2 persons/ 1 vehicle 900,00 kn - 120 €
+ 20 € FOR TRANSFER (FROM SPLIT AND BACK) AND LUNCH (BARBECUE)
Place of Departure if you do not want transfer
Description:
1. Upon arrival at the place of departure, you will be welcomed by guides with years of experience and will get to know ATV vehicles take short training and prepare for departure.
2. At the beginning of ATV safari, you will pass through the village of Rumin where the first road bridge is over the river Cetina. The ride continues to hill Vrdovo (plateau on Dinara) with a short stop at places that offers a breathtaking view of the mountains (Dinara, Kamešnica and silk) Dinaric Alps. Then we arrive near the mountain lodge St. Jakov(1001 m) where we will take a short break.
3. Thereafter the runs through the village Bitelić and ride continues on wild roads that are perfect for our vehicles and offer maximum enjoyment. We continue to ride along the river Cetina to the place where our ATV safari began. The beautiful and untouched nature and panoramic views over the river Cetina, Peručko Lake, town of Sinj and the Sinj fields are something that will leave you breathless during our adventure.
ATV safari includes:
1 ATV 300 cc vehicle (Automatic), load capacity 150 kg
40 km ride
Fuel
Helmets
Guided tour
Don't forget to bring:
- a bottle of water
- sunglasses
- sunscreen

Please note: it is important to dress in layers or sportswear (according to weather conditions).